Our Mission
We tell stories about the people who fight on the anti-poaching frontline to protect wildlife in Africa by using genre films with Hollywood's dramatic structure and techniques. Entertaining movies with moral messages…
Making an impact
A Voice of Love's "Stop Wildlife Hunting and Poaching" films aim to raise public awareness among audiences in the U.S. and worldwide so that more and more people will stand up with us to protect the wildlife and make the world a better place to live.
Our survey discovered that not many Americans knew about the wildlife poaching and trafficking in Africa, especially elephants and rhinos. Furthermore, fewer people knew about illegal wildlife products including artworks and luxury jewelry made from elephant tusks, and horns for their supposed medicinal use. The high prices paid in the black market give poachers all the motivation to put the wildlife at risk. Please do not buy products made from these endangered species.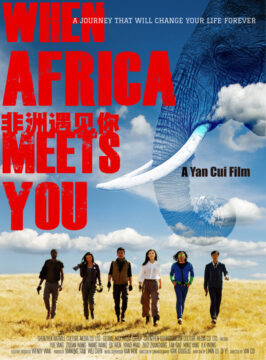 When an uptown Chinese young woman arrived in Zimbabwe to visit her "dying" father, she got into a fight with an Anti-Poaching Volunteer from China. They later became the deadly target of the elephant poachers during their trip together to the Wildlife Sanctuary. They had to evade the poachers to make it out in one piece. Ultimately, the journey has changed their life forever… READ MORE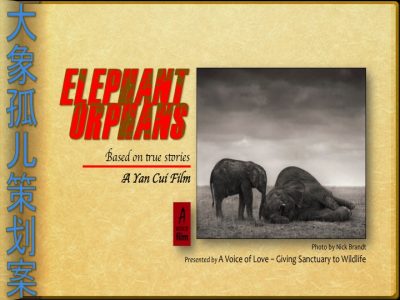 After suffering a near fatal injury in the Iraq war, Marine veteran Francis Keane returns to America and finds it hard to fit in a country he no longer understands. In a desperate attempt to regain control of his life, Francis journeys to Africa, where he leads hunting safaris for rich foreigners in a hunting club. After a chance encounter with a beautiful young Kenyan woman, Nalah, a caregiver at an elephant orphanage, Francis becomes frustrated with catering to the rich and famous, he quits – gradually dedicating himself to Nalah and her orphaned baby elephant, Santo.
READ MORE
Support A Voice Of Love
Saving wildlife in Africa is a tough, complex challenge. We believe our unique approach will get results in a time of noise and distraction. Your contribution will help us make live-action films about men and women who risk their lives every day to fight against poaching in Africa.
Storytelling inspires our hearts and minds. Stories drive us to focus our efforts to make a huge difference.  Be part of this effort, and join A Voice of Love to give sanctuary – and a livable future – to wildlife.